02DAYS LLACHON COMMUNITY CULTURAL
Lake Titicaca
RATES 2021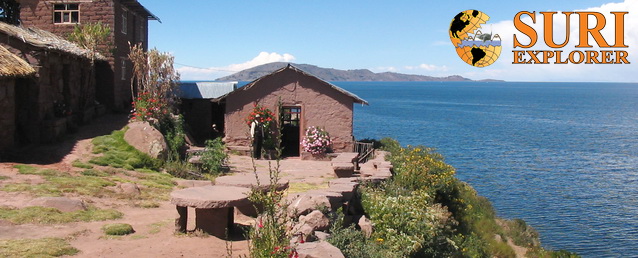 PRIVATE & GROUP SERVICES
---
02DAYS LLACHON CULTURAL + TAQUILE ISLAND & UROS
Lake Titicaca
DESCRIPTION OF ITINERARY:
DAY 01: PUNO – UROS ISLANDS – LLACHON COMMUNITY: The tour begin with the transfer from your hotel to the main port, where you will board a motor boat to visit the unique floating islands of Uros are located 6km from Puno. The residents of the Uros were one of the oldest ethnic groups that inhabited the lake Titicaca, who used the aquatic plants "totora reeds" that grows in the lake, to create life conditions and ensure that the islands stay afloat. The dense roots that generate these plants support the island. The islanders use the totora reeds for building their islands, houses, cooking and eating as well. Uros people have spoken Uro puquina language, but now a day they speak Aimara Language. There are about 90 artificial islands, besides guest houses, primary school and the reed boats the unique method of transportation. Following with our journey, we will visit another island, where locals offer to visitors passport stamp, besides you take a boat ride on the typical balsa. Then a trip to the peninsula Llachon. Upon arrival to Llachón community which is located 76km from Puno, where we have hiking to explore this beautiful community. You will find that your room has been built with local materials and traditional decor. Llachón has became an obligatory stop for who visits Lake Titicaca, described as a place where time has stopped, where you will appreciate the customs and experiences of communities. The Pucara culture built on the Peninsula farming terraces, temples and chullpas (tumbs), which still remains a place sacred for the locals, who still practice their most important religious and cultural rituals of the Andean traditions, the ceremony of offering in honor to the Mother earth (Pachamama), also from there you can admire the magnificent sunset on the Titicaca, the highest and navigable lake in the world. In the afternoon fishing in lake Titicaca (optional). Here we have the chance to dinner together with our host family. Overnight at Llachon community.
DAY 02: LLACHON – TAQUILE ISLAND – PUNO: Breakfast included at the Lodge. Then visit Taquile Island, which is located in the major lake, to 11km from Llachon community and 37 km away from Puno, formerly called Isla Intiqa. Upon arrival at Taquile island we have hiking, enjoying along the way the escenery, the view to lake Titicaca and andes mountain range. Taquile is famous for its craft production, particularly for its beautiful textiles. The islanders still practice the moral principles of Inca as (do not steal) (do not be lazy) and (do not lie) that are still used among inhabitants. On the island, now a day live 2000 inhabitants approximately. Visiting non-tourist areas you will appreciate the pre Inca temples and farming terraces, traditional farming techniques and their customs. Lunch included on Taquile Island. Then a return trip to Puno, then transfer to hotel.

---
WHAT IS INCLUDED: Transfers hotel/port/hotel, English-Spanish speaking guide, entrance fees Uros Island US$3, entrance fees Taquile Island US$3, all meals & accommodation at Llachon community, lunch on Taquile Island US$5, motor boat.
NOT INCLUDED: Additional cost (in group service) for transfer from hotels located out of Puno city as Hotel Sonesta Posada, Casa Andina Premiun, Xima, Libertador and Jose Antonio.
02DAYS LLLACHON CULTURAL + TAQUILE & UROS
(Private Service) By private motor Boat

PRICE PER PERSON
INCLUSIONS / EXCLUSIONS
US$00.00 (02 persons)
Inclusions: Private transfers, private motor boat, english-spanish speaking guide, entrance fees, accommodation + all meals at Llachon community & lunch on Taquile island.
Exclusions: Extras, tips and others not mentioned in the program.

---

ITINERARY:
DAY 01:
07:45am Pick up time from your hotel
08:00am Departure to Uros islands + visit
10:00am Departure to Llachon community
11:30am Arrival to Llachon community, then activities & homestay
DAY 02:
08:00am Weaving activities.
09:30am Departure to Taquile island
10:30am Arrival to Taquile island + visit & lunch
14:00pm Return to Puno.
16:30pm Arrival to main port. Then transfer to hotel

US$00.00 (03 persons)
US$00.00 (04 persons)
US$00.00 (05 persons)
on request (06 persons up)
IMPORTANTE:
. Booking with a legal travel agency Tour Operator means being in good hands, because it provides accident insurance, operation permits, life jackets and buoy, and a team of professionals prepared at your service.
. In these times that we live we must maintain distance, the use of a mask and a face shield during each excursion.

. We recommend to travelers hire legal travel agencies, to generate jobs for tour guides, land & lake transportation, communities of islands (restaurants & rural lodging) who will receive a fair payment for their services provided. THANK YOU FOR BOOKING WITH US.
The team of Suri Explorer